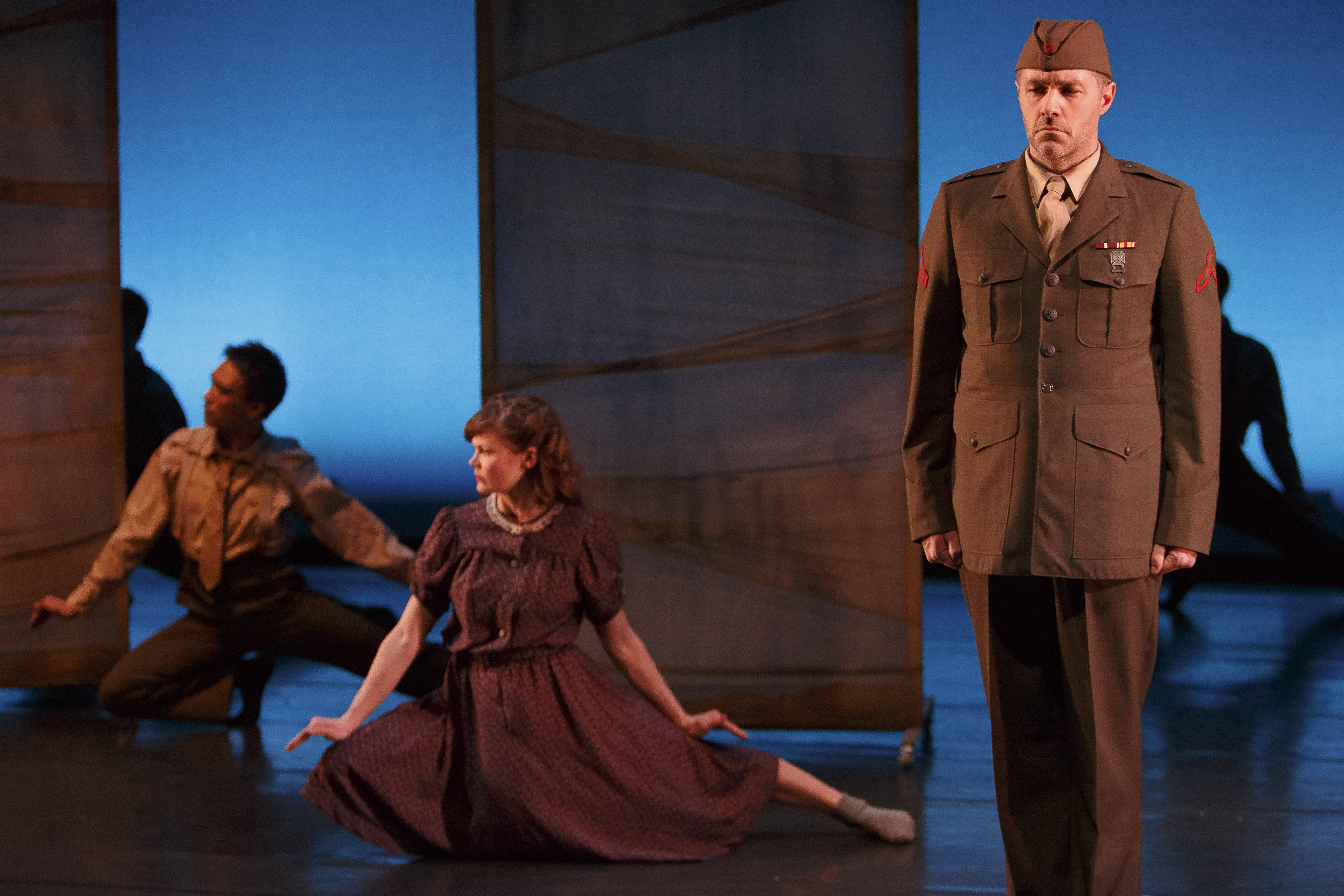 "A Soldier's Tale" comes home
by Michael Greyeyes
---
Jeanne Holmes, the artistic producer of The Canada Dance Festival and ardent supporter of our newest creation, A Soldier's Tale wrote the following program note for our June 9th premiere in Ottawa, Ontario:
"Signal is a fascinating word -- it can guide or warn, command, or direct, or with a simple gesture moves us into new territories. The work of artistic director Michael Greyeyes does all of that and more. His dance-theatre creations, built with rigour and invested with Indigenous histories, bring new perspective to the contemporary experiences of Canada's First Peoples. It is such a pleasure to open CDF 2014 with the powerful production A Soldier's Tale. Co-produced with our partner the National Arts Centre-- is a visceral and poetic glimpse into the terrible world of the soldier. On returning home to the embrace of family, many continue to fight inner battles of survival and guilt and in that fallout is the deeply personal and necessary storytelling we see tonight."
It all began in Ottawa, actually.
It was 2008, early December and I remember working on an arts jury for the Canada Council for the Arts when I received a phone call--literally out of the blue--from a maestro in Philadelphia, asking me if I was interested in re-working "A Soldier's Tale," the seminal music work by Igor Stravinsky with a new score by the renowned American Indian composer Jerod Tate. I was, of course, excited to work with Jerod but the theme of Stravinsky's original work was based in a Judeo-Christian construct of a man selling his soul to the Devil for knowledge. I told the maestro that did not interest me, but I interested in speaking about soldiers and their experiences of coming home after conflict. I have not served in the military, but many in my family have, many in my community have served bravely. The name "Greyeyes", I was reminded in Ottawa this past week by another veteran, has significance in the Canadian military. And in that discussion at the Wabano Centre for Aboriginal Health the day before we opened I realized that I have grown up surrounded by veterans and their stories.
Sadly, the project with the American symphony and Jerod Tate did not come to fruition, but it was in my hotel room on Cooper Street where I imagined a project that examined the lives of soldiers and the aftermath of war. I had just completed filming Paul Gross' epic war film Passchendaele the year before and I was still immersed in those stories, in those characters' lives. So I began to imagine how I might create a theatre work that could honour what I knew and manifest on stage the fragile peace that many veterans had constructed for themselves after their return home.
I have always been drawn to stories of wartime, from the countless World War II films that my father and I watched together, to the many images in the Encyclopedia Brittannica and other history books, to my fascination with the photographs of my father and grandfather in uniform. As I grew older, works such as Paths of Glory, Apocalypse Now, and The Deer Hunter were seared into my consciousness. But then I saw Coming Home, a work of startling power with cinematography by Haskell Wexler. It was this film in particular that turned my head toward the costs of war and who shouldered them--a portrait so intimate and unforgettable, I think I can quote it shot by shot.
It was in a café in Toronto where I sat down with Brian Webb, the former artistic producer of the Canada Dance Festival in 2011, after Signal had just premiered from thine eyes, our first major production. Brian asked me if I was working on anything. He was interested in programming something with a larger cast for the 2012 CDF and I pitched AST (as we refer to it in shorthand). He was immediately captivated and began a discussion with Cathy Levy, the dance producer at The National Arts Centre. The work was timely and our company's mix of dance, spoken text and visceral physical environments might be a perfect mix for the larger stage of the NAC Theatre and to open the festival. Soon after I began writing grants to develop the work and invite collaborators aboard, I realized that the scope of the work required many years of research and examination, so the 2014 CDF seemed the logical choice.
2014 was light years away.
But then we got to work. Tara Beagan was my first choice to write the text, Yvette Nolan and Nancy Latoszewski also as dramaturges and John Gzowski to compose the music. A dream team. So we immersed ourselves in these worlds. One set in Saskatchewan in 1947, the other in Iraq, circa 2003. What, you might ask, do these worlds have in common?
Soldiers.
Their experiences, undimmed with time, unfiltered and raw. I knew that the work we produced must be unflinching. That is the reality that soldiers must face everyday. And that reality, as we've discovered, becomes a relentless shadow that follows each of their homecomings.
A Soldier's Tale was developed over nearly three years of workshops, meetings, conversations and long moments of reflection. A work of this scope requires no less. The cast and production team would carve out mere weeks in our busy schedules to come together (often months apart) to rehearse, create, hone, and finally polish. Finally, in 2014 we premiered the work at Toronto's Harbourfront Centre, at the Fleck Dance Theatre, presented by DanceWorks--Toronto's longest running independent dance series. Signal Theatre is a new player on the national scene, but the content of the work and its potential to create awareness around the trauma of operational stress attracted a number of key partners, without whom the work would not exist: The National Arts Centre and the Canada Dance Festival as co-producers, The Canada Council for the Arts and the Ontario Arts Council. The Banff Centre, too, supported us with a creation residency in 2013. As well York University and the School of Arts, Music, Performance and Design, where I teach theatre, contributed to my research by generously giving us a rehearsal home. Every part of the creation of this work was intense because we knew it would be viewed, ultimately, by veterans--upon whose stories we had built our own.
But 2014 finally did come and the premiere at the Fleck was extraordinary. Yet all the work we pursue with Signal begs deeper investigation, more stringent analysis, more rigour, and even more reflection--so we knew that the lessons we gleaned from our Toronto opening could only challenge us to be better for Ottawa. Interestingly, we had a mere 3 days of rehearsal in Toronto before travelling to the National Arts Centre to prepare for our opening, yet once we were in the studio once more, the work, its themes and characters came immediately back to life and we literally picked up where we had left off, 4 months earlier. Moving back into the movement and the text was too a homecoming for all of us.
And then we boarded trains and packed the rental truck and drove east on Hwy 401 until we saw the signs which pointed us here.
And then time speeded up, rushing forward, with or without us. Our production team, led by Ron Snippe, guided us through a tight rehearsal and set-up schedule until we found ourselves backstage, costumes and props at the ready, while members of the cast, Yvette and I and our fight director Simon Fon found a fugitive moment or two to figure out last minute details.
It was an extraordinary feeling waiting for that opening curtain. Nerves and relief, anxiety and hope. But then finally Jeanne Holmes stood, opening the festival officially and welcoming our company. She then introduced an Algonquin elder, who began the evening with a prayer and then a young singer followed with a piercing honour song, accompanied by his hand drum. The entire auditorium quieted and centred itself. In the silence that followed, I walked to my seat next to Yvette, exchanging a quick glance and smile. And the lights in the theatre dimmed.
There we were, at last-- in the city which inspired its beginnings, finally back to share our work.
Thankful to come home.